A popular music festival in Owensboro, Kentucky is kicking off on Wednesday.
From Wednesday, June 22, through Saturday, June 25, ROMP Fest will return to Yellow Creek Park in Owensboro, and crew members are hard at work setting up for this week's festival.
"Transforming a county owned park into a festival site," said Chris Joslin, director of ROMP. "Building the stage from the ground up, and everything that goes along with that, so as you can see, we have a lot of vendors and contractors and staff here to make all that happen."
Joslin says it's going to take about 40 to 50 hours to build the stage and get the park fully set up for Wednesday night, and he said him and another dozen or so crew members will be hard at work from now until Wednesday afternoon.
Performances from artists "Bennan Leigh" and the "Theo & Brenna Band" will start off the festival on the Jagoe Homes After Party Stage Wednesday, with a number of different headlines scheduled to perform on the Main Stage from Thursday through Saturday.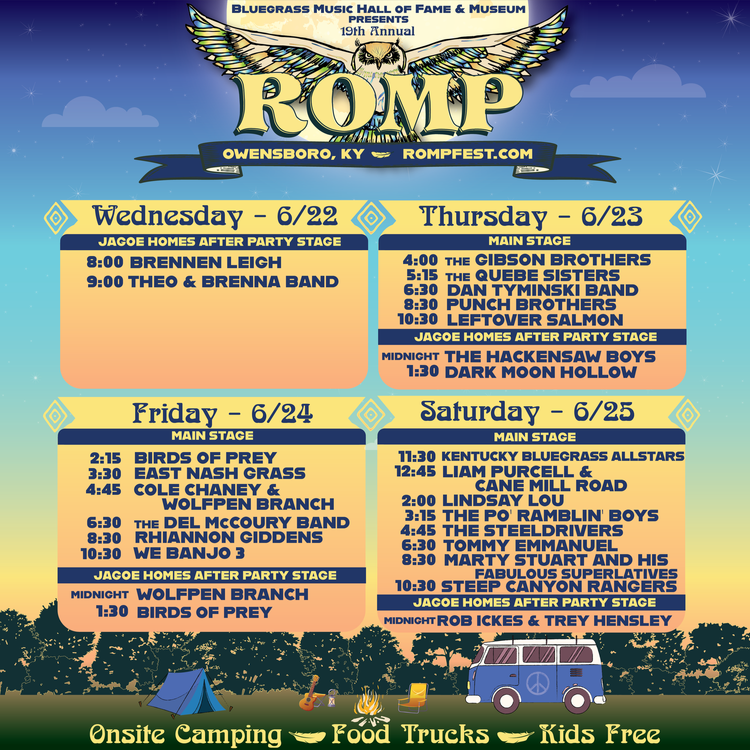 ROMP Fest 2022 marks the festival's 19th year in Owensboro.
For more information on tickets, hotels, daily lineups, and more, just visit rompfest.com.