Two years to the day, the first COVID-19 cases were confirmed in the Tri-State, Honor Flight of Southern Indiana held their first post-pandemic indoor event with veterans.
Saturday, eighty-five veterans met one-on-one with volunteers to go over details for the upcoming April 23rd flight.
It will be the first time the organization has been able to fly since 2019. In March 2020, days before veterans were scheduled to attend similar meetings the pandemic grounded the program.
"It is wonderful to have our veterans back," said Honor Flight Bus Captain Sue Bengert.
Volunteers like Bengert were the voice on the other end of the line, notifying veterans of delay after delay.
"I've talked to them, their wives, and their children." continued Bengert. "I know their family now. We've shared stories for the past two years."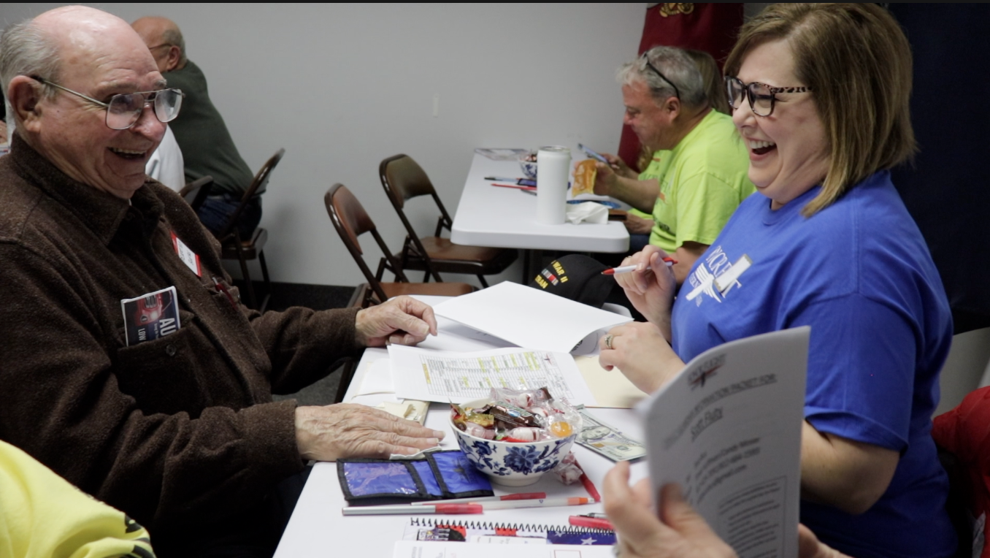 World War II veteran Alan L. Baker wasn't sure a call with good news would ever ring.
"We just thought that maybe it would be the end," said Baker.
Now, Baker and his son are looking forward to taking the flight together.
"Seeing the Washington Monument and all the great things in Washington," said Baker.
Navy veteran Bill Helt will also be sharing the experience with his son, Chris. He learned about the program while living in North Carolina.
"I decided if I ever got where there was another one, I was going to go," explained Helt. "I'm here, and I am excited."
Charles Bluebaum is also looking forward to finally touching down in D.C. The Army veteran will be taking his wife along for the journey.
"It will be a memory that we will never forget," said Barbara Bluebaum.
Saturday's event was the first step towards creating those memories.
"We will do whatever it takes to have that veteran go," explained Bengert. "That's why we want to meet them one-on-one. So, we can find out what their needs might be and to meet those needs whatever they are."
As volunteers dot the I's and cross the T's to ensure EVV12 is a success; veterans countdown to April 23rd.
"It's just amazing. I am looking forward to all of it," said Helt.
Ways You Can Help:
HFSI will have several events leading up to the April flight and is always looking for volunteers.
This spring flight has been fully sponsored by Soldier Dogs for Independence, but more donations are needed. The group plans to take another 85 veterans to D.C. in the fall.
HFSI is asking the community to write letters to the veterans. The letters are then given to the veterans on their flight home from Washington. Mail call is one of the most memorable moments of the trip for many veterans.
You can drop off letters at any Evansville Vanderburgh Public Library or Old National Bank branch.
For more information about how to volunteer or donate, visit the HFSI website.