The snowfall from overnight has wrapped up and anything that fell is already beginning to melt (if it hasn't completely already). 
The precipitation began falling as rain for most of the Tri-State late last night. A quick transition to snow occurred throughout some of the area leading to some quick accumulations. 
But as you may have noticed if you live in Evansville, a lot of the snow didn't make it to the light of day. That's because we re-transitioned back to rain early this morning which ate away at our snowpack. 
So based on how much snow fell (now matter how much melted by morning), how does our snowfall forecast map compare?
Here is the snowfall forecast produced by the Storm Team 44 meteorologists yesterday before the snow began to fall.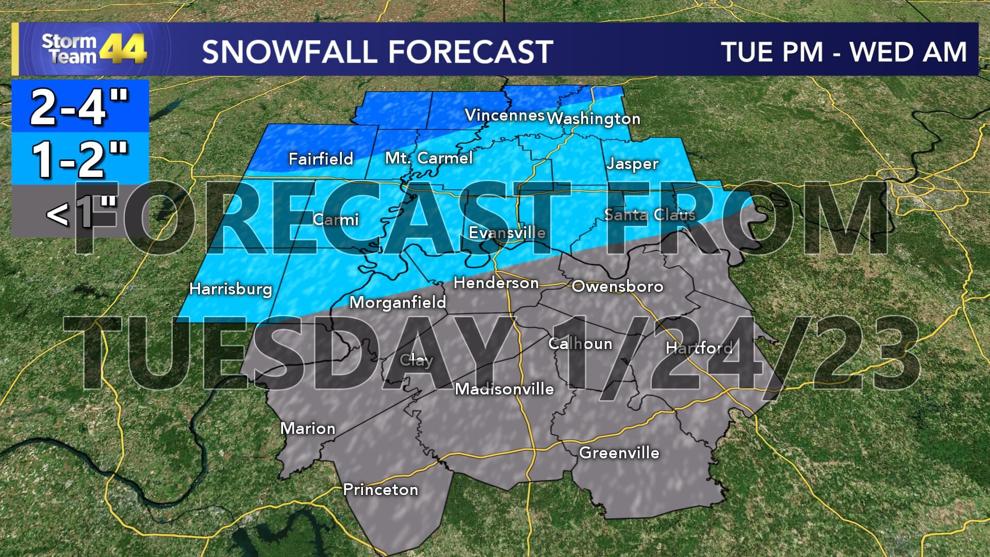 In general, we were expecting snowfall accumulations to be around 1-2" north of the Ohio river with our northern and northwestern counties seeing the greatest chance of more than 2" of snow but no more than 4". 
Well, the National Weather Service has produced a report of the observed snowfall now that all the snow has fallen. You can view that report here.
With that information in the 44News weather center, we are now able to map out who saw how much snow in the Tri-State late Tuesday night into our Wednesday morning.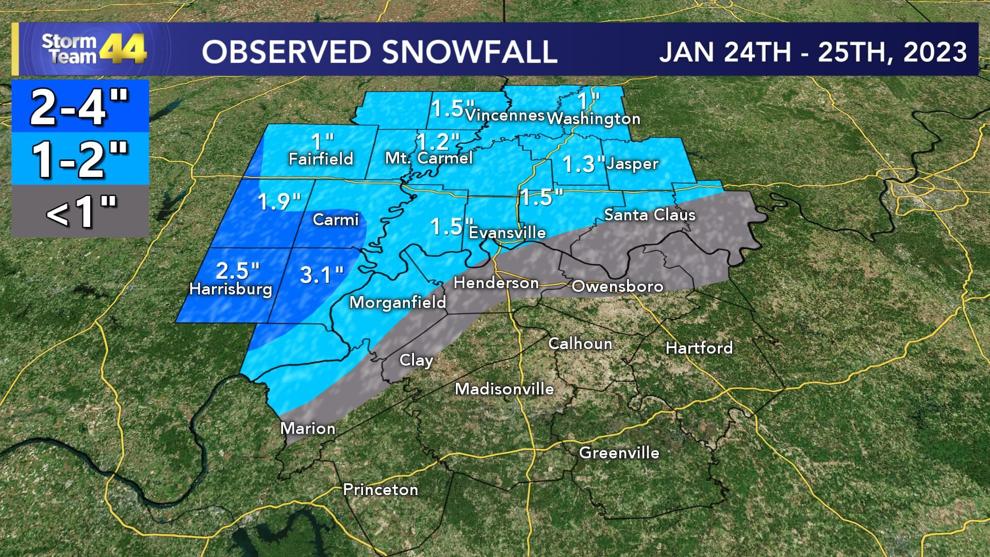 As you can see, for the most part, our forecast was fairly accurate. Sure, snowfall wasn't experienced as far south as expected but in general we nailed a lot of the trends.
We predicted significant snowfall (>1") was going to be isolated mostly north of the Ohio river, and our northwestern most counties had the greatest chances of seeing +2". 
What actually happened was almost exactly that. The hotspots for the highest snow totals occurred a little further west than expected but still close to the initial anticipated area. Also, the Ohio river served as a good approximation between who saw a rain storm and who saw snow mix in.
The only things that we didn't get exactly right was how far south snowflakes could be seen and overestimating the snow totals for Knox and Daviess counties in Indiana just a bit. Both were due to warmer air surging a little further north than expected during the duration of the storm. 
All-in-all, our forecast was something we are proud of. We didn't over or under hype anything and put out a really accurate forecast for a such a particularly tricky winter storm.
If you have any photos from the snow last night and this morning, feel free to share them with me on social media on Facebook and Twitter!